The Great Plains in America have a sensory, visceral detail that has become the study and subject of a variety of artists, including painters, drawers, architects, photographers and designers of all kinds. The wind, water and weather that form the spacious grasslands and hills of the plains have raw, colorful qualities that beg to be captured on canvas or film. It is a vast and empowering landscape that makes it ideal for reflection through the humanities.
The Center for Great Plains Studies, located at the University of Nebraska at Lincoln, was organized to study this relationship between the plains and artisans, especially in the humanities. In the area of art, many 20th and 21st century craftsmen have recorded the plains in either their raw beauty or emotional abstractness.
This overview will address Native American art, early photographs and art done by settlers, and finally more modern artists, including bronze workers, photographers, painters, and designers.
Native American Art
The oldest known painted object in North America—a bison skull with red paint—was discovered in Oklahoma and dated to 10,000 B.C. Before the advent of European settlers and their technologies, native tribes were hunting and gathering societies that reflected their nomadic, warrior lifestyles in their art.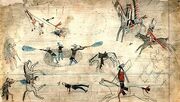 Art of the American Southwest, in particular, depicts humans hunting bison or other animals with spears, and relying on rain and the elements for good crops. This art was depicted on rock faces or basic pottery.
When European settlement brought horses and modern conflict into the mix, the change was also reflected in the artwork of native tribes. Horses also enabled tribes to live more mobile lifestyles, hunting larger game. Buffalo hide clothing, which is considered art to many scholars, was decorated with natural dyes and embroidery, as well as shells and teeth. Horses also allowed the Indians on the Great Plains to trade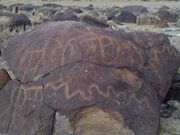 with other people, expanding the beadwork, paintings and art materials used by those tribes. Buffalo was the bestand most popular material for hide painting and hides often depicted narratives or designs recording adventures or dreams. Calendars, maps and other records have also been found recorded on animal hides.
In the late 19th century, when buffalo herds were growing scarce, plains artists adopted muslin or paper as their painting surfaces.
Early Photographs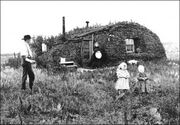 One famous photographer to record everyday life on the Great Plains was Fred Hulstrand, a settler in the Dakotas. His collection includes over 500 images documenting settler life between the 1880s and the 1920s in America. Hulstrand began his photography career in his teens and worked odd jobs throughout his younger years while documenting daily life around him. His images portray sod houses, farming equipment and techniques, small town life, social events, education, stores and weather. His photographs also account for the ethnic diversity of European settlers that made their way to the Great Plains. His work focuses particularly on North Dakota.
Many photographs taken around the time of Hulstrand's documentation depict houses secured by families collecting on the Homestead Act of 1862. Settlers recorded the tents, sod houses, cabins and brick formations that they called home.
Early photographs of everyday life on the plains are now considered art for their historic and intrinsic value.
However, most were taken for personal reasons or for necessity, as photographic equipment was a luxury until well into the early 20th century. Photo equipment was not available until 1886, so all photographs were made after that date.
…Some come here and put up temporary frame houses thought they could not live in a sod house This fall they are going to build sod houses so they can live live [sic] comfortable this winter a temporary frame house here is a poor thing a house that is not plastered the wind and dust goes right through and they are very cold A sod house can be built so they are real nice and comfortable build nice walls and then plaster and lay a floor above and below and then they are nice Uriah is going to build one after that style this fall The one we are in at present is 14 by 16 and a dirt floor Uriah intends takeing it for a stable this winter I will be a nice comfortable stable
Letter from Mattie V. Oblinger to George W. Thomas, Grizzie B. Thomas, and Wheeler Thomas Family, June 16, 1873 (Library of Congress)
Regionalism—The Movement in America
The American Regionalist style of painting was part of the wider American Scene Painting movement and began in the 1930s. Regionalism attracted those artists who didn't like city life or industry and who wanted to create scenes of rural life in the American West and Midwest. In particular,
Regionalist paintings are characterized by their realistic depiction of scenes, architecture and figures from the American Midwest, exemplified by Grant Wood's masterpiece American Gothic (1930). Regionalism as a movement conincided with the Great Depression and became a source of patriotism. The positive images helped dissolve some of the tension and gloom in rural America at the time. The United States was far more of an agricultural nation than it is in the 21st century, with a much smaller percentage of its population living in urban or metropolitan areas. Thus, Regionalism appealed to the many Americans living on the Great Plains.
Famous Modern Artists
Albert Bierstadt—A native of Germany, Bierstadt moved to Massachusetts with his family as a child and went on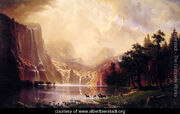 a survey expedition in 1857 that allowed him to travel the American west. While on the trip, he took photographs and made sketches of the dramatic landscapes he experienced. He soon had a contract for his art back on the east coast and made a career out of his depictions of western and Midwestern landscapes. His work depicts romanticized scenes of the West, painted on huge canvases and accentuated with dramatic lighting. He was popular with 19th century art collectors. He portrayed an American prairie that was newly and increasingly accessible to the rest of the world.
William de la Montagne Cary—Cary is best known for his paintings depicting animals and hunting scenes. Born in New York in 1840, Cary learned to draw at a young age and travled the Missouri River by steamboat when he was 21. He experienced and depicted the West before the influx of settlers and transcontinental railroads would weave their way across the country. He participated in many Native American activities, ceremonies and buffalo hunts, all of which he also depicted in his artwork.
Robert F. Gilder—Gilder was born in New York, but moved to Omaha, Nebraska in 1887. He began as a printer's assistant at a printing company and worked for the Omaha World Herald for 32 years, working as a typesetter, reporter and editor. He was also an archaeologist and worked for University of Nebraska Museum in Lincoln and discovered the Nebraska Loess Man—the oldest documented human being at the time of discovery in 1904. Gilder was a painter only in his free time, as a hobby, but his important position as an editor and archaeologist made him famous for his relationship with the Great Plains. In 1939 the Omaha World Herald reported that Gilder had completed 34 Nebraska landscapes.
Grant Wood—Grant Wood was an American painter born in Anamosa, Iowa. He is best known for his paintings depicting scenes of the rural American Midwest, especially the painting American Gothic, which became an iconic image of the 20th century. He is best known for his paintings, but he has worked in a variety of art media, including ink, charcoal, ceramics, wood and found objects. He is also a published author and has wrote an article for Rural America Magazine in 1940 titled "Art in the Daily Life of the Child." Wood is one of three artists most associated with the American Regionalism movement.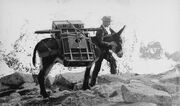 William Henry Jackson—Jackson was a painter, Civil War veteran, photographer and explorer famous for his images of the American West. He is known as the first person to photograph Yellowstone National park and his documentation of the natural beauty of the American plains aided in the creation of the world's first national park. He documented landscapes and scenes throughout his life, including during his time as a Civil War soldier, explorer and homesteader. He traveled and lived in many states in the west and Midwest—including Nebraska—and made a career out of documenting the frontier after forsaking his original dream of striking gold. He established his own photographic studio in Omaha in 1986 and began photographing American Indians on the Omaha reservation nearby. He later worked for the U.S. Geographical Survey and documented national parks in thousands of photographs. His most famous photograph—a snapshot of the Mount of the Holy Cross in Colorado—was a testament to his accessible, skillful depiction of the new American west and Midwest.
Frederic Remington—Originally a magazine illustrator, Remington began to make sculptures in 1985 and wouldgo on to create some of the most famous bronze works depicting Great Plains life. He produced 22 different subjects, worked in clay and then cast in bronze. He, like other western artists, traveled the Great Plains many times to report for magazines and take photographs and make sketches.
==Art Centers on the Plains ==
Great Plains Art Museum—Lincoln, Nebraska: The Collection consists of bronze sculptures, paintings and drawings, other works on paper, and photographs, as well as over 7,500 volumes of Western novels and other fiction and nonfiction books written about the Great Plains and the American West. 
Plains Art Museum—Fargo, North Dakota: The Plains Art Museum began as the Red River Art Center in 1965 and changed to its present name in 1975 when the center agreed to add a center for Great Plains art research into its regular staff. The Museum renovated a turn-of-the-century warehouse in downtown Fargo, North Dakota, and opened to the public in October 1997. The museum collection includes works from international, American and Great Plains artists. 
Midwest Museum of American Art—Elkhart, Indiana: The Midwest Museum of American Art is located in the center of downtown Elkhart, in a beautifully renovated neo-classical style bank building. One of the museum's 9 galleries is located in the old bank vault and displays part of the museums permanent collection. The museum is a showcase of the 19th and 20 century American Art, with original paintings by Grandma Moses and Norman Rockwell. Along with the original Norman Rockwell the museum also has a large collection of his hand – signed lithographs. The museum collection contains over 2500 works with at least 600 on display at any time during the year. 
Community content is available under
CC-BY-SA
unless otherwise noted.