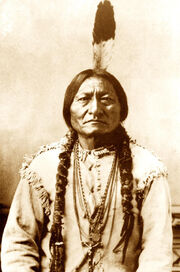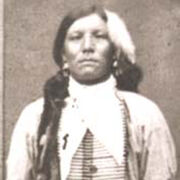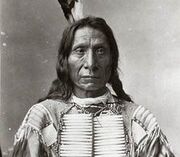 Write the first paragraph of your page here.
Famous People from the Great Plains
Native Americans
Three of the most famous Native Americans of the Great Plains were all Lakota chiefs who worked with each other during the many disputes between the US government and Native American tribes in the 1800s. All three resisted attempts of forced relocation of their tribes to reservations and are remembered for their abilities to unite the Sioux tribes in resistance against US government policies towards Native Americans. In 1868 the Fort Laramie Treaty was signed that set aside the Black Hills area as off-limits to settlement because it was a Lakota Holy Land. This treaty affected all three chiefs in various ways.
Crazy Horse

 

(c.1840-1877) was an Oglala Lakota war chief born around present-day Rapid City, South Dakota. The Grattan Massacre in 1854 helped kick off Crazy Horse's life-long distrust of whites. In 1866 he led warriors to an ambush of Captian William Fettermen and his 80 men that became known as the Fetterman Massacre, and was part of a war that became named after Oglala Lakota chief Red Cloud. It was the worst US military Native American defeat until the Battle of Little Bighorn, which Crazy Horse led the attack on as well. When Sitting Bull gathered allies after the Fort Laramie Treaty was disregarded, Crazy Horse led a group of around 1500 against General George Cook's forces and a week later joined with Sitting Bull against General George Custer's men. Both were soundly defeated. While Sitting Bull's group was forced up to Canada, Crazy Horse stayed and fought, but a harsh winter and lack of food caused his followers to abandon him, and he surrendered at Fort Robinson, Nebraska in 1877. He was arrested and killed for refusing to stay on the reservation, and has famously never been photographed.
Red Cloud (1820-1909) was born around the forks of the Platte River in Nebraska. He was an Oglala Teton chief who refused to sign treaties in 1865 allowing the US army to travel through their lands as part of the Bozeman Trail. Conflicts arose and Red Cloud led his tribe and neighboring ones in battles against US troops and their forts along the Bozeman Trail. After two years Captain William Fetterman led a relief party, which Red Cloud, along with Crazy Horse, defeated. In 1868 the government called for a halt to all raids and forts, and Red Cloud signed the Fort Laramie Treaty, and agreed to move onto a reservation in Nebraska. Throughout the 1870s and 80s Red Cloud worked for peaceful negotiations between the Sioux and the US government and advocated for better Native American treatment. He died at the Pine Ridge reservation in 1909.
Presidents-
Dwight D. Eisenhower (b.1890-1969), our 34th president, was born in Texas and raised in Abilene, Kansas. He joined the army and served in WWII, including

 

commanding Allied Forces in North Africa and on D-Day in France. He was president from 1953-1961. While in office he achieved a truce with Korea, worked to ease Cold War tensions, ordered the desegregation of the Armed Forces, and emphasized the necessity of a strong military while warning against the long-term effects of military spending.
Lyndon B. Johnson

 

(b.1908-1973) was our 36th president from 1963-1969 after JFK's assassination, as he was originally the vice-president. Before running with JFK he served in the Navy in WWII in the South Pacific, and became as Senator in 1948. He continued to enact President Kennedy's civil rights measures and tax cuts, then began his own campaign to encourage the nation to build "A Great Society" and won his second term with over 150 million popular votes (over 61%), the widest margin in American history. Two crises in the form of segregation riots and Communist aggression from Vietnam threatened his goals.
Gerald Ford

 

(1913-2006) was our 38th president from 1974-1977. He was born in Omaha, Nebraska, but grew up in Michigan. He was in Congress for 25 before succeeding President Nixon after his resignation. He inherited a country troubled by scandal, inflation, recession, energy shortages, and foreign unrest.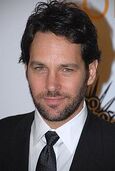 Paul Rudd-

 

Born in New Jersey in 1969 but moved to Kansas and raised there since he was 10. His breakthrough role was Josh in Clueless, recently has been in various Judd Apatow movies.
Kirstie Alley- Born and raised in Witchita, Kansas in 1951. Starred in Look Who's Talking, and the tv show Cheers.
Hillary Swank-

  

Born in Lincoln, Nebraska in 1974 and moved to Washington when she was 6. Lead roles in Boys Don't Cry, Million Dollar Baby, and Freedom Writers
Marlon Brando-

  

Born in Omaha, Nebraska, 1924, died 2004. He was raised in Illinois and California. Starred in A Streetcar Named Desire, On the Waterfront, and The Godfather
January Jones-

 

Born and raised in Sioux Falls, South Dakota in 1978. Roles in Anger Management, Love Actually, We are Marshall, and American Pie series. Currently in AMC's drama series Mad Men.
Henry Fonda-

  

Born and raised in Grand Island, Nebraska in 1905, died in 1982. Starred in The Grapes of Wrath, 12 Angry Men, and How the West Was Won
Tom Brokaw- Born in Webster, South Dakota in 1940, raised in Yankton, South Dakota. Television journalist most known for being lead anchor on

 

NBC Nightly News for over 20 years.
Johnny Carson-

  

Born in Corning, Iowa in 1925, moved to Norfolk, Nebraska at age 8, died in 2005. Television host and comedian best known as the host of The Tonight Show Starring Johnny Carson for over 30 years.
Other Famous People-
Laura Ingalls Wilder-

  

Author of Little House on the Prairie novels, set throughout the Great Plains and the Midwest, including in Kansas and South Dakota. Laura wrote them as an adult being nostalgic about her childhood and they were edited by her daughter, a journalist.
Malcolm X- Born in Omaha, Nebraska in 1925. Due to racial violence the family moved frequently in Malcolm's childhood, but he mainly lived in Michigan. A leader of the civil rights movement.

 

Assassinated in 1965 by members of the Nation of Islam.
Warren Buffett-

  

Born and raised in Omaha, Nebraska in 1930. Known for his successful business, investment, and philanthropy efforts, and is called the "Oracle of Omaha." Listed on Forbes' "Wealthiest Men" and "World's Most Powerful People" lists. In 2006 he announced that he would give away his entire fortune to charity, with 85% going to the Bill and Melinda Gates foundation. The donation to the foundation is the largest act of charitable giving in US history.
Willa Cather-

  

Born in Virginia in 1873, moved to Nebraska when she was 8, died 1890. Influential author first categorized as a regional author due to the prairie settings of some of her novels. 
Buffalo Bill Cody- Born in Iowa in 1846, moved to Kansas when he was 8, died 1917. Became a symbol of the American frontier itself due to his skills as a scout, buffalo hunter, and soldier on the plains, and his show "Buffalo Bill's Wild West," that toured throughout America and Europe.
Tourist Attractions
Museums of Famous People-
Eisenhower Birthplace State Historical Park- located in Denison, Texas
Eisenhower Library and Museum- located in Abilene, Kansas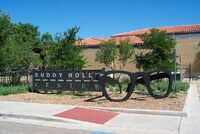 Buddy Holly Center - located in Lubbock, Texas. Its aims are to provide contemporary visual arts and music in order to educate and entertain the public. It also has a collection of Buddy Holly artifacts as well as other performing artists and musics.
http://www.mylubbock.us/departmental-websites/departments/buddy-holly-center/home
http://billythekidmuseum.com/aboutbillythekid.htm Billy the Kid Museum-  Located in Hico, Texas, provides a history of Billy the Kid and the controversy surrounding his death. Also includes events throughout the year such as car shows.
http://austintexas.gov/department/o-henry-museum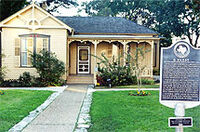 The O. Henry House and Museum- House is located in San Antonio, Texas, and is used by the probation office as part of their city's probation program inspired by Sidney Porter's life experiences. The museum is in Austin, Texas. The museum is dedicated to collecting, preserving, and interpreting artifacts relating to Sidney Porter, whose pen name was O. Henry.
Fort Cody Trading Post-
museum and western souveniers gift shop dedicated to Buffalo Bill's Wild West Show located in North Platte, Nebraska (
http://www.roadsideamerica.com/story/10519
)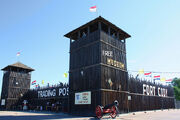 Landmarks-
http://www.nps.gov/moru/historyculture/why-these-four.htm Mount Rushmore-  located in the Black Hills of South Dakota, this national memorial took 14 years to finish (1927-1941) and bears the images of four US presidents, chosen for their various crucial roles in leading and making the US a world leader. Washington was the father of our new country and laid the basis for our democracy. Jefferson was the author of the Declaration of Independence and obtained the Louisiana Territory, effectively doubling the size of the US, Theodore Roosevelt provided critical leadership in projects such as the Panama Canal and ensured the rights of the common man by working to end corporate monopolies. Lincoln held the nation together during the Civil War and preserved the union.
http://crazyhorsememorial.org/
Crazy Horse-
also located in the Black Hills of South Dakota, the Crazy Horse memorial is notable for a few reasons. Started in 1948, the carved likeness of Crazy Horse into the mountainside was chosen by Native American leaders because he was a great and patriotic hero for all Native Americans. The project does not accept any government funding and is reliant on donations, and so can only progress erratically when there is enough money to do so. It is currently still unfinished.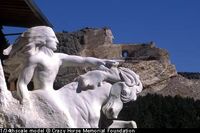 http://www.archway.org/About/default.aspx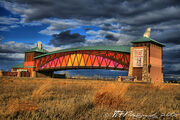 Great Platte River Road Archway Monument- As the Oregon, Mormon, and California Trails traveled from one side of the country to the other, Fort Kearney in Nebraska was natural converging point for these three trails, and became as sort of second jumping off point into the wilderness. Inside the archway that stands over I-80 is the story of these pioneers that headed to the West Coast and seeks to pay tribute to their ingenuity and perseverance that helped shape the diverse culture of America.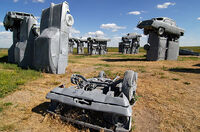 Carhenge-   As the name suggests, this is a replica of Stonehenge made entirely out of cars. Located in Alliance, NE, this attraction was started as a memorial to Jim Reinders, the artist of this sculpture. All cars are covered in gray paint and is preserved by a local group called Friends of Carhenge.   http://www.smithsonianmag.com/travel/evotourism/Evotourism-World-Tour-Ashfall-Fossil-Beds-Nebraska.html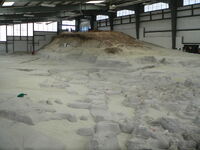 Ashfall Fossil Beds  - In 1971 a paleontologist in Nebraska discovered over 200 fossilized skeletons at an ancient water hole as a result of breathing in ash from a volcanic eruption 12 million years ago. Now this site is a State Historical Park, but each season visitors can watch scientists excavate new fossils and learn about what has already been found. The Black Hills- Besides being home to Mount Rushmore and the Crazy Horse Memorial, the Black Hills and the Badlands are home to six national parks, mountains and forests, caves,   Devils Tower National Monument, and plenty of camping opportunities. As land that was sacred to the Lakota of the area, the Black Hills are full of Indian legends, history of the area, and cultural exhibits. http://www.nps.gov/history/nr/travel/scotts_bluff/chimney_rock.html
Chimney Rock- the most famous and most mentioned landmark in recordings of settlers on the trails to the west coast, Chimney Rock is located just south of Baynard, Nebraska.
Other Musuems/Attractions-
http://www.cornpalace.org/Information/corn-palace-history.php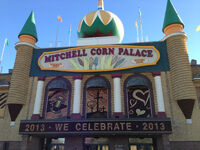 Corn Palace- The World's Only Corn Palace, located in Mitchell, South Dakota. The palace has unique corn murals decorating it, and was originally built to prove to the nation that South Dakota was fertile and had a healthy agricultural climate. There is a yearly Corn Palace Festival to celebrate the growing season and the harvest. Three corn palaces have been built throughout the years, due to lack of space and the current palace is a practical building that is adapted for a variety of events, such as dances, stage shows, meetings, banquets, proms, graduations, and basketball tournaments. Each year the Palace is redecorated with naturally colored corn, grains, and grasses, and follows a theme.
Five Civilized Tribes Museum-   Dedicated to preserving the art, history and culture of the Cherokee, Chickasaw, Choctaw, Muscogee, and Seminole tribes of Oklahoma. The museum is located in Muskogee, Oklahoma and began in 1951. Exhibits featuring various tribes and aspects of their culture are rotated through the collection. 
Joslyn Art Museum-    Located in Omaha, Nebraska, it is Nebraska's oldest and largest art museum and began in 1931. The building is one of the finest examples of Art Deco architecture in the US. It has a concert hall, fountain court, an educational technology gallery, lecture halls, classrooms, and an internationally recognized collection of artists and exhibitions. http://www.joslyn.org/about/
Strategic Air Command- Located in Ashland, Nebraska and opened in 1959, the museum commemorates the aircraft of the Strategic Air Command (SAC).   It allows the public to view, learn about, and interact with the extensive number of aircrafts that helped SAC maintain peace during the Cold War.
Negro Leagues Baseball Museum- started in early 1990s in a small office in Kansas City, the museum quickly grew to feature interactive displays, multi-media stations, film exhibits, and an extensive photograph collection. This museum tells the previously untold part of American history. http://www.nlbm.com/s/about.htm
"Specialized" Attractions-
http://www.garden-of-eden-lucas-kansas.com/history.htm
The Garden of Eden-   Not an actual garden, the Garden of Eden was started by a Civil War veteran named Samuel Perry Dinsmoor in Lucas, Kansas in 1907. He began constructing a house and added 40-ft tall trees to hold life figures for his sculpture garden. Every part of the sculptures have some meaning attached to them, be it Populist politics, modern civilization, or the Bible that connects them.
Kool-Aid Museum- Located in the birthplace of Kool-Aid, the Hastings Museum in Hastings, Nebraska is the largest municipal museum between Chicago and Denver and is home to a planetarium, history collection, IMAX theatre, and the Kool-Aid museum.
Enchanted World Doll Museum-  Right across the street from the Corn Palace in Mitchell, South Dakota is an English-style castle that houses the Enchanted World Doll Museum. It is one of the largest doll museums in the world and has a collection of almost 5,000 dolls.
Yellow Brick Road replicas-  Yellow Brick Road replicas-There are currently two replicas of the Yellow Brick Road from the Wizard of Oz. One is in Liberal, Kansas, and the other is in Sedan, Kansas.
World's Largest Porch Swing- Located in Hebron, Nebraska, it can seat 25 adults.
Custer State Park- Part of the Black Hills of South Dakota, this state park has campgrounds, educational programs, hiking trails, fishing, resorts, and wildlife viewing opportunities.
Theodore Rooseevelt National Park- Just north of the Black Hills, the Badlands of North Dakota are home to Roosevelt National Park, which is split up into three areas: South Unit, North Unit, and Elkhorn Ranch Unit. There are camping, outdoor activities, kid events, and guided tours.
http://www.nps.gov/bibe/planyourvisit/things2do.htm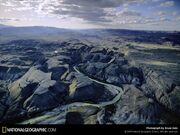 Big Bend National Park- This park is in Far West Texas and has trails for scenic driving, backpacking, mountain biking, camping, horseback riding, bird watching, wildlife observation, and stargazing. It also borders the Rio Grande for a stretch and rafting, canoeing, and kayaking are also available.
Inventions
Kool-Aid-  Invented in Hastings, Nebraska in 1927 by Edwin Perkins, who enjoyed chemistry and experimentation. The Dial Telephone- Invented in 1889 by Almon Stowger of El Dorado, Kansas
Helicopters- William Purvis and Charles Wilson, of Goodland, Kansas, invented helicopers
The Strobe Light- Invented by Harold "Doc" Edgerton, native of Aurora, Nebraska, and was an electrical engineer